Your EtherScope nXG and/or LinkRunner 10G accesses software updates from the Link-Live Cloud Service. If you would prefer to manually update, follow the Manual Update Instructions.

NOTE: You must create an account and "claim" your unit to the Link-Live Cloud Service to be able find and download software updates.

The first time you claim your unit to Link-Live, a software update may be available. If so, an update icon (down arrow) appears in the Status Bar. Slide down the Top Notification Panel, and select the notification to update your unit.



Check for Updates:

1.  To check for available software updates at any time, open the Link-Live App from the Home screen.

2.  In the Link-Live App, tap the menu icon or swipe right to open the left-side Navigation Drawer.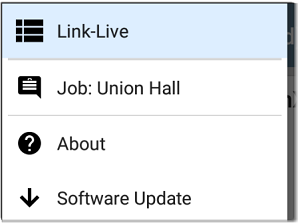 3.  Tap Software Update. The Software Update screen opens and displays the version number of any available updates.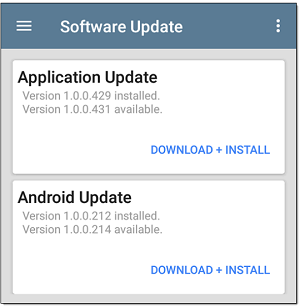 4.  If both an Android and an Application Update are available, install the Android update first.

5.  Touch Download + Install to update the Android operating system or the NetAlly Applications. Each update must be installed separately.

6.  The files download and install. When finished, the unit will restart.
7.  After updating Android, check the Software Update screen again in case an Application Update is still required.