The LinkRunner AT (LRAT) AutoTest feature allows you to configure up to 10 target devices and verify connectivity to a device using Ping or connectivity to a TCP application port using a TCP SYN packet. In this example, a profile was created using LinkRunner Manager and uploaded to the LRAT. The profile included two target devices and TCP port numbers. 

Note: The Gateway is automatically included as a target device and connectivity is tested with Ping. 

The example below shows the AutoTest successfully verified the TCP application ports were listening for an incoming TCP session request on TCP port 8168 and 8190.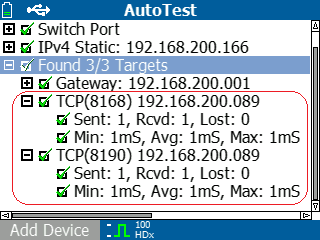 The AutoTest can also run in Continuous Mode by changing the setting found on the  LRAT, under Tools >  AutoTest Configuration or when setting up the profile in LinkRunner Manager. The LRAT will start with a random TCP source port number and send a TCP-SYN packet to the target device about every 4.2 seconds incrementing the TCP source port number by 14 for each TCP-SYN packet sent. In the example below, we can see the LRAT has so far tested TCP connectivity to the target device 26 times and will continue testing until you exit the AutoTest menu.