Standard network adapters are those that have been comprehensively tested by AirMagnet and are recommended for use with AirMagnet Survey PRO for 802.11ac WLAN surveys. However, because their drivers have not been customized, standard network adapters provide a limited feature support.  

As of July 2017, the following adapters are considered to be 'standard' for use with AirMagnet SurveyPRO v9.2.0 and earlier:
NETGEAR A6200 Wi-Fi USB Adapter
NETGEAR A6210 Wi-Fi USB Adapter

Note: When using the Netgear A6200 on Windows 8.1 operating system, download the latest recommended driver from: http://support.netgear.com/product/A6200. This is the Win 8.1 beta driver with DFS channels support for Europe listed on Netgear's web site

D-Link DWA-182VA1 Wireless AC1200 Dual Band USB Adapter; D-Link DWA-182 version C1
Buffalo WI-U2-866D AirStation™ USB Adapter (for use in Japan only)
Intel® Dual Band Wireless-AC 7260 internal adapter
Intel Dual Band Wireless-AC 7265 internal adapter

To check which adapters are supported by the current version of Survey, click here. 

The following are noted limitations of standard adapters in AirMagnet Survey:
Only one 802.11ac adapter can be used when utilizing multiple adapters.
There is no roaming control for active and iPerf surveys.
No noise or signal-to-noise ratio (SNR) measurements.
Can only survey by SSID (not by AP) in active and iPerf surveys.
Only a single PHY data rate for the connection is reported.
No packet retry and loss measurements on active and iPerf surveys.
iPerf throughput performance may vary depending on the make/model of adapter.
There is no Scan or 802.11 tab under the File > Configure menu; so, no ability to scan specific channels: all channels are scanned.
They are limited in the wireless channels that they scan: They may only be able to scan channels that are approved for wireless use in a specific country, and unable to scan channels assigned as Dynamic Frequency Selection (DFS) channels.
 
What You Can Expect to See in Survey When Using a Standard Adapter
The behavior within AirMagnet Survey changes depending on the WiFi adapters selected at start-up.   Using a standard adapter and a preferred adapter together differs from using two preferred adapters with AirMagnet Survey Pro. Survey does not support running two standard AC adapters at the same time.
 
Here, we have started Survey with two supported adapters, a standard 802.11ac (NETGEAR A6210) and a preferred (Proxim 8494):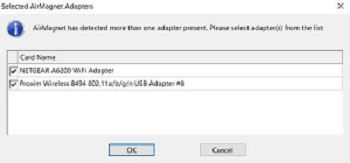 With a project open and on the Survey tab, we see the two adapters present:





With both the NETGEAR A6210 (standard) and Proxim 8494 (preferred) adapters selected, notice that the Survey Type drop-down menu is limited for each adapter.
 
The NETGEAR A6210 (standard) adapter is limited to Active or Active IPERF only: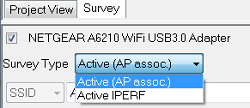 The Proxim 8494 (preferred) is limited to Passive only:





With the Proxim 8494 de-selected (the check box is un-ticked), now the NETGEAR is able to be used for Active, Passive, or an iPerf survey: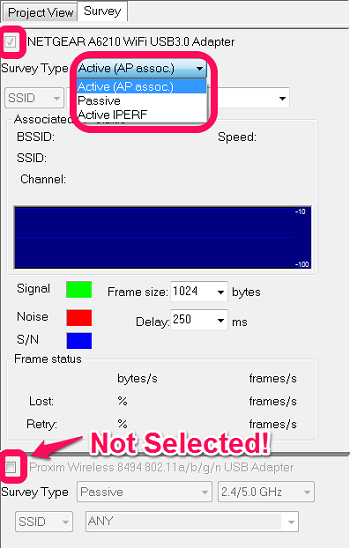 With the NETGEAR de-selected, now the Proxim 8494 can be used for Active, Passive, iPerf, or a VoFi Phone survey: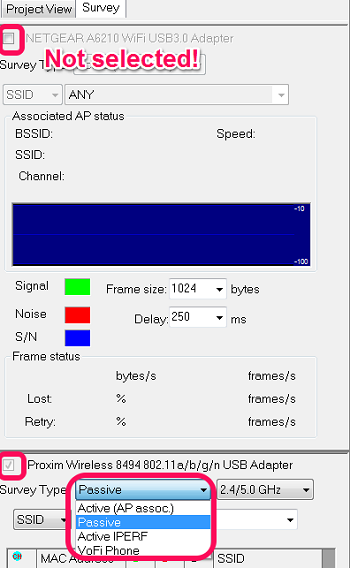 Options NOT Available for Standard Adapters on an Active Survey
Additionally, please note that when using a standard adapter for an active survey, some options are not available.  

Proxim 8494 is a preferred adapter. It has the Roaming button and the SSID/AP dropdown.




NETGEAR A6210 is a standard adapter:
- no Roaming button
- the SSID/AP drop-down menu is not available





On the NETGEAR (standard) adapter, there is no Roaming option to set the roaming criteria for an active survey. The adapter will roam based on the manufacturer's chipset. Notice that with the Proxim 8494 (preferred), there is a Roaming option; you can use a preferred adapter to set your roaming criteria in an active survey.

On the NETGEAR (standard) adapter, there is no ability to click the SSID button to change it to AP; you can only associate to an SSID, not an AP. With a Proxim 8494 (preferred) adapter, you can associate in an active survey to an SSID or an AP.